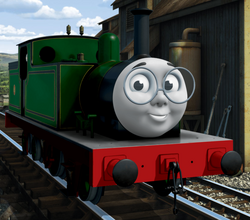 Whiff
Number: 66
Class: LNER X1 tank
Designer: Wilson Worsdell
Builder: Wilson Worsdell
Built: 1869
Configuration: 2-2-4T
Whiff is a grubby green tank engine who collects rubbish. His main task is collecting rubbish and scrap, which explains his dirty appearance and smell.
Bio
coming soon
Basis
Whiff is based on a LNER X1 tank engine.
Persona
Whiff is cheerful and optimistic. He enjoys his job of collecting rubbish. He doesn't seem to care what the other engines think about him: either that or he is oblivious to their opinions. Despite that, he is friendly and always does his job well. He is somewhat naive, as he didn't realise why the other engines tried to avoid him so much.
Livery
Whiff is painted in a dark green livery with black and gold stripes and green wheels. He wears large spectacles on his smokebox.
Appearances
Trivia
Whiff is the first and only engine to wear glasses in the television series.
Whiff has been shown to pull more trucks than his basis is capable of pulling.
Ad blocker interference detected!
Wikia is a free-to-use site that makes money from advertising. We have a modified experience for viewers using ad blockers

Wikia is not accessible if you've made further modifications. Remove the custom ad blocker rule(s) and the page will load as expected.