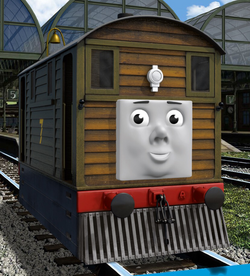 Toby
Number: 7
Class: LNER J70 0-6-0
Designer: James Holden
Builder: Stratford Works
Built: 1914
Configuration: 0-6-0T
Arrived on Sodor: 1951
Toby is a steam tram who works on the Ffarquhar Branch Line. He has a coach called Henrietta
Bio
coming soon
Persona
Toby is old but wise, hardworking, and knows enough about running branch lines to justify running Thomas' with Thomas and Daisy after Percy's accident with the trucks. He is also savvy enough to control the trucks. However, his advanced age and design means that he is weaker than the other engines. While Toby is always ready to work hard without any fuss, he can be a bit temperamental sometimes, especially when young and inexperienced engines who are full of themselves make things difficult for him. However, work at the quarry line often soothes off his moods without any cause of grief to anyone, except of course his old faithful coach, Henrietta.
Basis
Toby was inspired by a GER C53 0-6-0T Wisbech steam tram (classed as J70 by the LNER) seen by the Reverend Wilbert and Christopher Awdry on a holiday at Yarmouth, hence Toby's origins. The J70 trams were all withdrawn from service in 1955 and none have survived in preservation.
Livery
In the Railway Series, Toby was painted brown with black cowcatchers and sideplates (which sported "LNER" in bright yellow letters) before working on his tramway, where he was repainted greyish-brown with grey sideplates and cowcatchers. After helping James he was repainted chocolate-brown with olive frames and blue sideplates.
In the television series, Toby has consistently been painted brown with grey sideplates and cowcatchers. Toby has a number "7" painted on his sides in bright yellow with a red border.
Appearances
Specials:
Trivia
Toby is Christopher Awdry's favourite engine. This is because while on a trip in Yarmouth, he and his father got to ride in the cab of a J70 tram, thanks to Wilbert's good friend, the late Reverend Charlie Rand.
One of Toby's models is currently on display in Japan at the Hara Railway Museum (previously on display at Nitrogen Studios) and is currently wearing his scared face mask. Another was previously on display at Drayton Manor but the model was stolen from the display in early 2011.
In the fifth season episode Baa!, Toby revealed that his favourite station is Maithwaite.
In an interview with SiF, Andrew Brenner (The headwriter of TTTE) stated that Toby was one of his favourite characters, along with James, Bill and Ben.
Between Hero of the Rails and Blue Mountain Mystery, Toby's crew regularly drive him from his rear cab instead of his front one.
Ad blocker interference detected!
Wikia is a free-to-use site that makes money from advertising. We have a modified experience for viewers using ad blockers

Wikia is not accessible if you've made further modifications. Remove the custom ad blocker rule(s) and the page will load as expected.