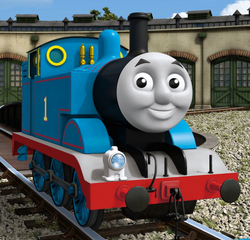 Thomas
Number: 1, formerly 70
Class: LB&SCR E2
Designer: L. B. Billington
Builder: Brighton Works
Built: 1915, rebuilt 1960
Configuration: 0-6-0T
Arrived on Sodor: 1915
Top Speed: 40-50 mph
Thomas is a blue tank engine who works on the Knapford-Ffarquhar Branch Line on the North Western Railway.
Bio
coming soon
Persona
Thomas is a rather cheeky, but good hearted and kind engine and generally behaves well, except when he is getting into mishap from getting over-eager. He loves teasing the others, especially the bigger engines, such as Gordon and on occasion, brags about his superiority, but is always brought down to earth in due course by anyone who gives him the moral to learn, especially the Fat Controller, and his two coaches, Annie and Clarabel. If Thomas has one major character flaw, it is that he is forgetful and slightly impatient. However, he is also optimistic and idealistic.
Although their friendship has been turbulent at times, Percy is generally portrayed as Thomas' best friend, especially in the television series.
Thomas is youthful, playful and also loves making children smile and he'd do anything to make somebody's day a better one. Annie and Clarabel are his closest friends of all.
Basis
Thomas is based on the Billinton E2-Class 0-6-0T locomotives built for the London, Brighton and South Coast Railway between 1913 and 1916. He is apparently one of the last batch built as only these engines featured his distinctive extended side-tanks, projecting forward over the leading wheels and little down sweeps at each end of the footplate. The E2s were introduced in 1915 to replace earlier members of the E1 class, which had been scrapped. The last five in the ten strong class had extended side tanks to give a greater water capacity, but all engines had two inside cylinders and driving wheels 4'6" in diameter.
After many years of service, all of the Billinton E2s, both original and modified, spent their last working years at Southampton Docks, alongside the SR USA Tanks (Rosie's class), and they were all scrapped by 1963, the very last pair being numbers 31204 and 31209, the latter being amongst the last batch. Their replacements were BR Class 07 diesel shunters (Salty's class). There is, however, a campaign with the aim to build a new E2, and number it 110. Two E2s of the first batch were tested on passenger trips, as well as given the LB&SCR brown passenger livery, this was a failed experiment, the reason for it being that the first batch didn't carry enough coal and water. So the class was used only for shunting.
Thomas has a slight modification of having wheel splashers over his front wheels whereas the original E2s did not. Unlike Thomas, the E2s had footplates with dips at the ends or ones that were straight. Thomas only had a dip at one end of his footplate, which it was repaired after his accident with the Stationmasters house, making it straight.
Livery
Thomas is painted in the North Western Railway's standard blue livery with red-and-yellow lining and the number "1" painted on his tank sides in yellow with a red border. In the Railway Series, he carries two builder's plates on the sides of his cab.
When Thomas first arrived on Sodor in The Adventure Begins, he was painted teal-green with white-and-yellow lining. He had LBSC lettering painted on his tanks in yellow with a red border and had the number "70" painted in the same colours on the sides of his bunker. Upon his first visit to the Steamworks for a repaint, his metal frame devoid of paint is seen before being applied with a pink undercoat to keep water out from him, which would cause permanent rust damage.
Appearances
Season 1 - Geoffrey's Real, Percy's Oil Spill, Tankers of Doom, Edward Tries His Best, Henry the Warrior (role cut; replaced by Duck), Skarloey Comes Home (cameo), Salty's Secret Story, Spencer the Show-Off (mentioned), The Lost Breakdown Train (mentioned), Gordon, Spencer and the Flying Scotsman, and Tinsel on the Tracks
Specials:
Trivia
In the Railway Series, Thomas was the first engine to have a number on the NWR. However, in The Adventure Begins, there were five other numbered engines before he was made number 1 to replace Glynn, a "Coffee Pot" engine from Sodor's branch lines.

According to Brian Sibley, Wilbert used that number because it was the easiest to draw.

Thomas' whistle is a high f and high A flat chime.
In the fifth season episode Baa! Thomas stated that his favourite station is Ffarquhar.
In Day of the Diesels, it was revealed that Thomas' driver is named Bob.
Thomas was the first character introduced in the television series, unlike the Railway Series. Though in The Adventures on Sodor, the first character seen onscreen in the first episode were the dockside team.
Thomas' LB&SCR number (No. 70) actually belonged to an LB&SCR A1 named Poplar, a member of Stepney's and Boxhill's class. The engine containing this number is currently preserved at the Kent & East Sussex Railway. The number 70 also represents the 70th anniversary of the Thomas & Friends franchise.
Thomas was originally going to have Duck's role in Henry the Warrior, but was later replaced by the latter as the creator thought that he had made too many appearances in earlier episodes and wasn't really needed.
Ad blocker interference detected!
Wikia is a free-to-use site that makes money from advertising. We have a modified experience for viewers using ad blockers

Wikia is not accessible if you've made further modifications. Remove the custom ad blocker rule(s) and the page will load as expected.