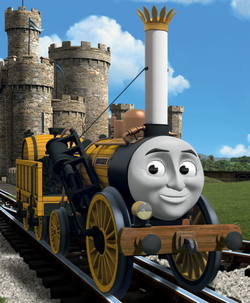 Stephen
Designer: Robert Stephenson
Builder: Robert Stephenson and Company
Built: 1829
Configuration: 0-2-2
Top speed: 30 mph
Stephen (mainly known as The Rocket) is a private engine who works at Ulfstead Castle.
Bio
Stephen was brought to Sodor to be restored by Sir Robert Norramby. He was eager to get to work, but that lead him to be trapped in a mine. He was ultimately rescued by Thomas, and also found King Godred's lost crown in the mine. He now enjoys taking passengers around Ulfstead Castle.
Persona
Stephen is a jolly old engine with a positive attitude and a good sense of humor. He is a good-hearted and quick-witted engine, and will not take any nonsense from engines like Spencer or Diesel. Some of the smaller engines look up to him for advice, and he is always willing to get the job done.
Livery
Stephen is painted yellow and black. He bears a gold nameplate reading "Rocket". His funnel is painted white with a gold finial and his domes, whistle, exhaust pipes, and boiler bands are copper.
Appearances
Trivia
Stephen's name is more than likely derived from his builder, Robert Stephenson.
Ad blocker interference detected!
Wikia is a free-to-use site that makes money from advertising. We have a modified experience for viewers using ad blockers

Wikia is not accessible if you've made further modifications. Remove the custom ad blocker rule(s) and the page will load as expected.