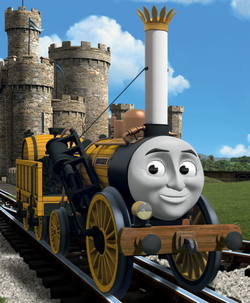 Stephen
First Appearance: Henry the Warrior
Friends: The Steam Team, Harvey, Hiro, Glynn, Connor, Caitlin, Millie, Skarloey, Rheneas, Jack, Sir Robert Norramby, Luke, Marion, Samson
Designer: Robert Stephenson
Builder: Robert Stephenson and Company
Built: 1829
Configuration: 0-2-2
Top speed: 30 mph
Stephen, nicknamed "The Rocket", is an early steam engine who is owned by Sir Robert Norramby and works up at Ulfstead Castle.
Bio
Stephen was brought to the railway by the Earl of Sodor. After a long duration of repairs at the Sodor Steamworks, he became trapped in a mine trying to be useful. Spending the night on the lonely dark mine, Stephen inadvertently uncovered King Godred's lost crown! After the Earl, Thomas, James, Percy and Jack rescued him, he was taken to Ulfstead Castle in time for the opening ceremony. Stephen now acts as a "tour guide" at the estate and works happily with the Earl, Millie and Glynn.
Persona
Stephen is a jolly old engine with a positive attitude and a good sense of humour. He is a good-hearted and quick-witted engine, and will not take any nonsense from engines like Spencer or Diesel. Some of the smaller engines look up to him for advice, and he is always willing to get the job done.
Livery
Stephen is painted golden yellow and black. He carries gold nameplates reading "Rocket" on each side of his boiler and his domes, whistle, exhaust pipes and boiler bands are painted bronze. During his early years and after his overhaul, Stephen had a plain black funnel, but after he was rescued from the mine, his funnel was painted white with a gold finial.
Appearances
Specials:
Trivia
Stephen's name is more than likely derived from his builder, Robert Stephenson.
Originally, after his restoration, Stephen would have gained a cab. In fact, some merchandise prototypes depicted him with a cab.
His drive wheels have more spokes than that of the real Rocket's, whose drive wheels only have 12 spokes each.