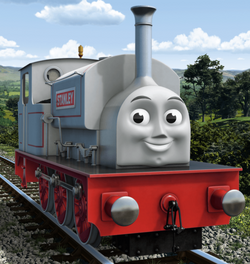 Stanley
Class: Hudswell Clarke/Kitson No. 5459 "Austin I" hybrid
Designer: Hudswell Clarke/Kitson
Builder: Hudswell Clarke/Kitson
Built: Sometime between 1920 and 1929
Configuration: 0-6-0ST
Arrived on Sodor: March 1955
Stanley is a silver tank engine.
Bio
coming soon
Basis
Stanley is a Hudswell Clarke/Kitson No. 5459 "Austin I" hybrid.
Persona
Stanley is the "boy-next-door" of the Fat Controller's Railway. Cool and cheery, there is nothing Stanley would not do for another engine. And if he could not do it, he would find someone who could. He is sleek, smart, and stylish and his silver and light grey appearance, with striking red wheels and a shining smokebox certainly makes him look the part as he eagerly goes about his work.
Livery
Stanley is painted silver all over with red wheels and lining. He has a red running plate with a dark grey basecoat, and his name on each side of his saddletank.
Appearances
Specials:
Trivia
Stanley's popularity with the public has grown following an online video called "A Toy Train in Space", in which a Wooden Railway toy of him was sent into space. As a result, Take-n-Play, Collectible Railway, and Thomas and Friends Adventures "Stanley in Space" toys have been released.
Stanley's smokebox is silver. However in real life, UK locomotives had their smokebox painted in black.
Stanley's whistle sound is Thomas' at a lower pitch.
Ad blocker interference detected!
Wikia is a free-to-use site that makes money from advertising. We have a modified experience for viewers using ad blockers

Wikia is not accessible if you've made further modifications. Remove the custom ad blocker rule(s) and the page will load as expected.