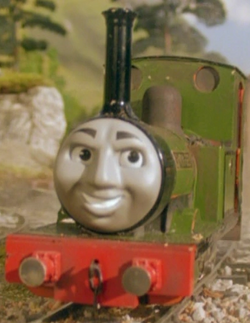 Smudger
Number: 2
First Appearance: Dashing Duncan (flashback; does not speak), Trouble on the Line (speaking)
Friends: Bertram
Enemies: Everyone (except Bertram)
Builder: Fletcher, Jennings and Co.
Gauge: 2ft 3in
Configuration: 0-4-0WT
Smudger was a narrow gauge tank engine who formerly worked on the Mid Sodor Railway. He was later turned into a generator, but was turned into an engine again a few years later to help out on the Skarloey Railway where he was turned into a playground attraction.
Bio
Smudger used to work on the Mid Sodor Railway with Duke, Falcon, Stuart, Bertram and Freddie. He was very cocky and rode dangerously, which led to his ultimate downfall. The Mid Sodor controller took his wheels away and made him into a generator. Duke had did his best to keep the feisty little engine in line, but to no avail. In his heyday, Smudger had a plethora of accidents and caused a great deal of damage.
Persona
Smudger is reckless, haughty, and perpetually prone to mishap. He never acknowledges his accidents as mistakes and seems to take no notice of the damage he has caused. Although he had a deep respect for Duke, he did not listen to his advice, and this alone would have changed his fate. For many years, he held a deep resentment for the Railway and its superiors, and perhaps the friend that had left him behind.
Livery
Smudger was painted dark green with black lining. He had black and brass name and number plates on the sides of his boiler and coal bunkers respectively. As he shared the same model as Rheneas, the inside of his cab is red.
Appearances
Trivia
Smudger is the first character in the television series to not originally come from The Railway Series. However, his role replaces that of Stanley (No. 2) from Duke the Lost Engine.
Smudger uses the same model as Rheneas.