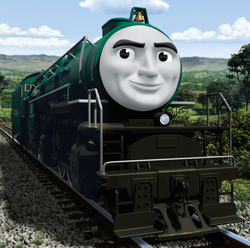 Sam
Number: 906
First Appearance: TBA
Friends: Thomas, Percy, The Fat Controller
Enemies: Unknown
Class: Virginian Railway Blue Ridge Class
Builder: Lima Locomotive Works
Build date: Circa 1945
Configuration: 2-6-6-6
Sam is a large American tender engine.
Bio
Sam is a super-sized and super-strong locomotive. He came to the Island of Sodor to help Thomas and Percy with the construction of the Sodor Museum. He collected the heavy loads of rails and stone for the museum. He helped Percy and the bell for the museum back on the rails when Percy fell into a ditch. Afterwards, Sam pulled the bell up to the clock tower when Rocky could not do it. As a reward for his help, The Fat Controller allowed Sam to lead the first group of people into the museum.
Persona
Hailing from the United States of America, Sam is the largest, strongest steam engine to ever visit the Island of Sodor. With a big heart to match his massive size, Sam is super-strong and will travel far and wide to help an engine in need.
Livery
Sam is painted Persian green and black with white lining. He has his name painted near his cab, and "Virginian" painted on his tender sides in white.
Appearances
He will appear in the third season.
Trivia
In real life, Sam would be too large for the British loading gauge.
At a weight of 389 tons (not including his tender), Sam is the largest locomotive on Sodor.
Sam has only been partly modified to work on Sodor. He has buffers on his tender and has been given screwlink couplings, yet lacks buffers on his front.
Sam has twenty wheels, the most wheels of any engine on Sodor (thirty-four counting his tender's wheels).
Sam's whistle is actually Samson's whistle at a slightly higher pitch.