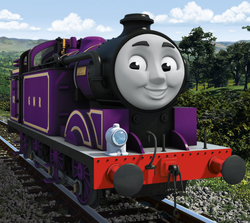 Ryan
Number: 1014
First Appearance: Harvey's Goods Train (cameo), The Lost Breakdown Train (speaking)
Friends: Thomas, Gordon, Toby, Duck, Donald and Douglas, Oliver, Spencer, Flying Scotsman, Daisy, Skiff, Judy and Jerome, The Fat Controller
Enemies: Diesel, Sailor John
Class: GNR Class N2
Designer: Sir Nigel Gresley
Builder: Doncaster Locomotive Works
Built: Sometime between 1920 and 1929
Configuration: 0-6-2T
Ryan is a purple tank engine who works on the Harwick Branch Line.
Bio
coming soon
Persona
Ryan is an affable engine, who goes out of his way to be kind and is concerned when he sees others in trouble. Ryan would like to be a hero, but he's not actually as brave as he wishes he was and has a tendency to panic a little in the face of danger. It doesn't put him off trying though. Ryan is direct and sincere, but he has a good sense of humour too and is not above making a joke at his own expense.
Basis
Ryan is based on the Great Northern Railway Class N2.
Livery
Ryan is painted purple with white and gold lining. He has the letters "GNR" painted on his tanks in gold. The number "1014" is painted on his bunker in the same colour.
Appearances
Specials:
Trivia
In the original script of Sodor's Legend of the Lost Treasure, Ryan was portrayed as being "overconfident and dismissive", as compared to his final portrayal. All merchandise descriptions of him mention this personality.