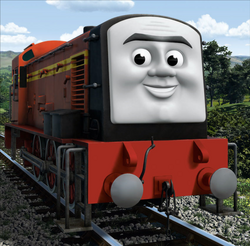 Norman
First Appearance: Sidney Gets Lost (does not speak), Long Lost Twins (speaking)
Friends: Dennis, 'Arry and Bert, Diesel 10, Den, Dart, Sidney, Paxton, Gordon, James, The Fat Controller
Designer: Oliver V. S. Bulleid
Builder: Ashford Works
Built: 1949
Configuration: 0-6-0
Top speed: 36 mph
Norman, nicknamed Norm, is an orange-red diesel shunter and Dennis' twin.
Bio
Norman is Dennis' twin, he was brought to Sodor when the Fat Controller was in need of a permanent station pilot at Vicarstown. However, he failed on his first day and was relocated to the Vicarstown Dieselworks where he feared he would be scrapped.
When Percy found the dieselworks on accident a year later, Norman was one of the few diesels who were quick to greet him. Later on, he and the other diesels went to take over the steamworks and caused a great deal of trouble while there. After Diesel 10 was scolded by the Fat Controller and the fire at the dieselworks was put out, everyone soon went to work restoring the works and once it had been completed, Norman was put back in working order again and he now happily works as the station pilot at Vicarstown like he had been originally sent to Sodor for.
Persona
When Norman first arrived on Sodor, he shown a hatred for steam engines and would claim that they were trying to prove how superior they were to diesels. But after being abandoned at the dieselworks for a year, he has abandoned this desire and now thinks of the steam engines as very useful like the diesel engines. Unlike Dennis however, Norman is a more kinder engine who wants to be liked by all the engines, whether they be steam or diesel. So he does his part at the Vicarstown Dieselworks and follows all of his orders without question. However, poor Norman often breaks down and does not like that. If he were fixed properly, Norman would show what a Really Useful Engine he can be unlike his twin, Dennis. He is also willing to help another engine in trouble and often gives them very good advice if they are in a situation.
Livery
Norman is painted orange-red with yellow lining and a dark grey roof.
Appearances
Specials:
Trivia
Despite Norman's nickname being "Norm", he has been consistently referred to by his full name. He shares this dilemma with Paxton and Sidney.
Norman is the first character to have a unibrow.
Norman shares the same horn sound as Dart.