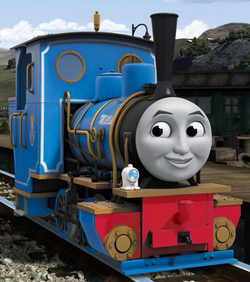 Millie
Millie is a small blue French engine privately owned by Sir Robert Norramby.
Bio
Millie arrived on Sodor to shuttle around Sir Robert Norramby, the Earl of Sodor, as his private engine.
One day, Luke was visiting Ulfstead Castle when he encountered the French engine. They agreed to switch jobs for the day, and even though it was nice to have a change, Millie thought it much better to be at the castle rather than the quarry.
Persona
Millie is a narrow gauge engine. She has worked on the Earl of Sodor's Estate Railway for many years. She is very loyal to the Earl and her relationship is like that of a personal servant. They have fun together and are as close as many friends, but there is also a certain formality to their relationship. Millie is a youthful, fun-loving, friendly engine who is full of spirit, and can be fiery when crossed. But she is also fair-minded and never spiteful. That said, she will take it upon herself to teach an uppity engine a lesson, should she feel the need. She always wants to do the best by the Earl and will defer to his judgement in all things, but when it comes to other engines, she has a mind of her own.
Livery
Millie is painted French blue with white lining, a golden running board, boiler bands and wheel spokes, Sir Robert Norramby's crest on her cab sides and her name painted in white on the sides of her tank.
Appearances
Specials:
Trivia
Millie is the second engine to speak a different language, the first being Victor.
Millie has the same whistle sound as Lady.
She is the first female narrow gauge engine in the series.