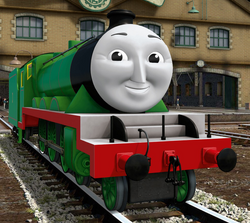 Henry
Number: 3
First Appearance: Geoffrey's Real
Friends: The Steam Team, Duck, Donald and Douglas, Oliver, BoCo, Bear, Salty, Harvey, Fergus, Arthur, Murdoch, Stanley, Hank, Hiro, Charlie, Porter, Geoffrey, Sidney, Stephen, The Fat Controller
Enemies: James (sometimes), Mr. Johnson, The Forest Ghost, Timmy, Diesel, Diesel 10, D199, D261, 'Arry and Bert, Spencer, Vinnie
Class: LMS Stanier "Black 5" 4-6-0 with fowler tender, originally GNR Ivatt Classic C1/LNER Gresley Class A1 hybrid 4-6-0
Designers: Sir Topham Hatt I and William Stanier
Builder: Crewe Works (rebuilt)
Build date: circa 1919, rebuilt 1935
Configuration: 4-6-0, originally 4-6-2
Arrived on Sodor: 1922
Henry is a green mixed-traffic engine who works on the Main Line.
Bio
coming soon
Persona
Henry is generally well-behaved, but he is occasionally arrogant and vain. Henry is at heart a hard worker, but his frequent bouts of illness hinder his work. His illness almost always involves his boiler having some sort of issue.
In the television series and The Adventures on Sodor, Henry has been portrayed with a much kinder and softer personality. He has been shown as a nature-lover as evidenced in Henry's Forest. This personality carried on throughout the more recent seasons with Henry being occasionally a tree-hugging engine too as he tried to prevent the tall pine tree and the wishing tree from being cut down. It is shown in the episode Henry the Warrior that he also has a slight fear of heights.
Basis
Henry's history is unusual. He was built from rejected plans for Sir Nigel Gresley's A1. The plans were stolen from Gresley by a rival. The resulting engine was a mix of a GNR A1 Pacific and a GNR C1 Atlantic, with a 4-6-2 wheel arrangement. Henry in this shape developed performance issues from flaws in the design, compounded by his stay in the tunnel. Henry was a bad steamer: with good-quality coal he could get enough heat to make plenty of steam, but when there was a poor lot delivered, his undersized firebox could not hold enough coal to make a proper fire. On advice from Henry's fireman, the Fat Controller ordered high-grade Welsh Coal, which made an appreciable difference in Henry's performance. When Henry suffered an accident and severe damage that winter, the opportunity was taken to send him to Crewe, where he was rebuilt an LMS Stanier 5MT "Black Five" 4-6-0. After "The Eight Famous Engines," Henry's LMS Stanier 5MT tender was replaced by a Fowler tender.
In the television series, Henry has always had a one-window cab with an LNER-style tender. The main difference between his shapes was removed splashers and the Belpaire firebox replacing the tapered. This was done to ease the changeover to his "Black Five"-esque appearance.
Livery
Henry is painted in the NWR's green livery with red-and-yellow lining and the number "3" painted on his tender sides in yellow. He was originally painted LNER green, but was repainted NWR blue with NWR red and yellow lining at the end of "The Three Railway Engines" and remained so until the beginning of "Troublesome Engines," when he was given back his own livery. In "Henry and the Express" he was briefly painted orange-red as an undercoat before his standard green coat was applied.
Appearances
Season 1 - Geoffrey's Real, Percy's Oil Spill (cameo), Tankers of Doom, Edward Tries His Best, Henry the Warrior, The Great Western Way, Skarloey Comes Home (cameo), Big Strong Murdoch, Fergus and the Small Engines (mentioned), and Gordon, Spencer and the Flying Scotsman
Season 2 - Disappearing Diesel (cameo), Haunted Henry's Forest, The New Controller, Jealous James, Duncan's Discovery (cameo), Back to Misty Island, Long Lost Twins (cameo), and Timothy and the Aquarium (cameo)
Railway Show Engines - Vinnie's Vicious Deed, Red and Fast (cameo), and Brave, Sleek and Strong (cameo)
Specials:
Trivia
Henry has appeared in the Railway Series more than any other engine, having been in both the most books and the most individual stories.