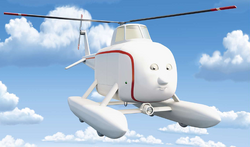 Harold
Harold is a helicopter who is based at the Sodor Search and Rescue Centre.
Bio
Harold arrived on Sodor many years ago and was used to deliver supplies to Knapford Harbour, which was being built at the time. During that time, he was working closely to Percy the Small Engine, who was delivering supplies as well via railway to the harbour. They maintained a tight relationship since their first meeting, and even had a random race during a time when they were both delivering supplies. Percy arose victorious and has been rather conceited towards Harold ever since.
Harold later assisted Percy when he got stuck in the water while delivering Annie and Clarabel for Thomas. Since then, they have become, some may say, "frenemies".
Harold helped Percy yet again when his mail duties were too much for him to handle alone.
Persona
Harold speaks in a manner reminiscent of an RAF pilot, using terms such as "wizard" and "old chap" in conversation. Harold somewhat tends to be full of himself as he feels that "railways are slow", but he always gets his comeuppance in the end. Nowadays, he acts a lot more mature and almost never teases the engines. He takes his job as part of the Sodor Search and Rescue Centre team very seriously and is always alert when there is an emergency.
Livery
Harold is painted white with red lining. His name is painted on his sides, near his tail, in red.
Appearances
Specials:
Trivia
Harold's theme in the second season is a musical variation on the main score of the 1955 film, The Dam Busters.