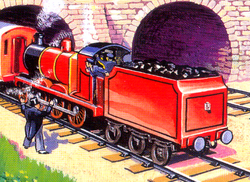 Geoffrey
First Appearance: Geoffrey's Real
Friends: Everyone (except Smudger and Vinnie)
Class: L&YR Class 25
Builder: Horwich Works
Designer: George Hughes
Configuration: 2-6-0, originally 0-6-0
Geoffrey is a red tender engine who works on Edward's Branch Line.
Bio
coming soon
Persona
Geoffrey is a kind and helpful engine like Edward. He is wise and clever, and will help anyone who is in trouble.
Basis
Geoffrey is based on a L&YR Class 28 with an added pony truck, a Belpaire firebox, and a Fowler tender, very much like James.
Livery
Geoffrey is painted red with yellow and black lining. He has red wheels and a red dome.
Appearances
Specials:
Trivia
Geoffrey is really the second unnamed red engine in the Railway Series who appeared in the book "The Three Railway Engines". However, in Geoffrey's Real, Geoffrey tells Edward he didn't have a name at the time, and was given the name Geoffrey by a workman who had visited Sodor when Thomas had made up an engine with the name.