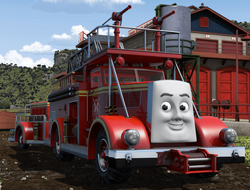 Flynn
Flynn is a fire engine who is part of the Search and Rescue Team. He can ride on the rails and the roads.
Bio
Flynn came to Sodor upon Belle's recommendation a few years ago to assist in the fire fighting. Although he is kind and friendly, he can be a bit of a show off and once tried to show off his bravado to the diesels, calling himself "Fiery Flynn", but ended up making a fool of himself.
Later, Flynn expressed his feelings of being uncomfortable riding on the road, and even though the road is usually quicker getting him where fire is, he is more comfortable riding on the rails. Nowadays, he is far more at ease riding on the road.
Persona
Flynn is fast, fearless, and ready to fight any fire. He is popular with the engines and held in high regard all over Sodor. He is always there if a fire starts and does his best to put it out. And, at the end of the day, Flynn always has it in him to prove that he is always ready to rescue, and is a really useful hero.
Livery
Flynn is painted red with yellow lining, with the Sodor Search and Rescue Centre emblem on his cab doors in white.
Appearances
Specials:
Trivia
Currently, Flynn and Skiff are the only multi-terrain characters in the franchise.