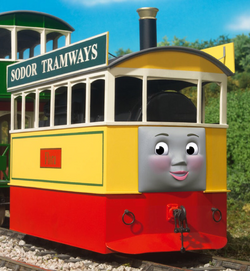 Flora
First Appearance: Disappearing Diesel (cameo)
Enemies: Daisy (one sided)
Builder: Falcon Railway Plant Works
Built: 1904
Configuration: 0-6-0
Flora is a steam tram who works for the Sodor Tramways in Great Waterton.
Bio
coming soon
Basis
Flora is based on a 1904 Moseley Road Tramway steam tram, rebuilt into standard gauge. Instead of buffers, she has three couplings upon her front and rear bufferbeam. She has an 0-6-0 wheel arrangement.
Persona
Flora is a docile little steam tram working on the Island of Sodor. She mainly works the Great Waterton Tramway with her tram car, which is her pride and joy, that she uses to perform passenger duties. Although she is, at times, quiet or even timid, she often greets other engines with a sunny smile. She is always cheerful to work, but she can be concerned about speaking up right away if there is a problem. She is happy to work on Sodor and is warmly fond of Toby, Sodor's other steam tram. They even led the first annual Great Waterton parade together, not long after meeting each other.
Livery
Flora is painted bright yellow with green and white lining, red cowcatchers and sideplates, and green boards on her roof reading "Sodor Tramways".
Appearances
Specials:
Trivia
According to her Story Library book, she is capable of travelling on both conventional standard gauge track and narrow gauge tramlines that run through Great Waterton. When she needs to change track, her crew replace her tram wheels with steel railway ones and vice versa.