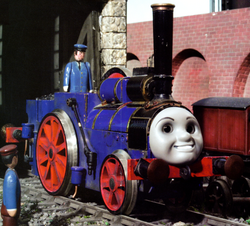 Fergus
Class: Aveling and Porter T9
Designer: Aveling and Porter
Builder: Aveling and Porter
Built

: 1926

Configuration: 2-2-0WT
Fergus is a railway traction engine.
Bio
coming soon
Persona
Fergus knows the rulebook off by heart, and his catchphrase is "Do it right!" His insistence on doing everything absolutely according to the rules can annoy the other engines, but he is a decent engine at heart and will not hesitate to help others in trouble.
Basis
Fergus is based on the Aveling and Porter 2-2-0 'T9' class railway traction engine No. 9449 "Blue Circle", which is the only one left in the world. Since Fergus' introduction, "Blue Circle" has been dressed up as Fergus on special occasions on its home line, the Battlefield Line in Leicestershire.
Livery
Fergus is painted royal blue with gold boiler bands and red wheels.
Appearances
Specials:
Trivia
According to the official website, Fergus' flywheel can be used to power tools such as a saw, drill, or pump. It has also powered a generator in the past.
Fergus has never been seen with a fireman.
According to Robert Gauld-Galliers' concept art, Fergus was originally going to have oval shaped buffers.
Ad blocker interference detected!
Wikia is a free-to-use site that makes money from advertising. We have a modified experience for viewers using ad blockers

Wikia is not accessible if you've made further modifications. Remove the custom ad blocker rule(s) and the page will load as expected.