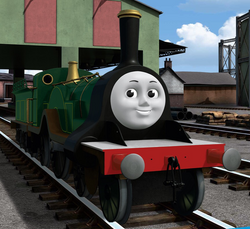 Emily
Emily is a large Stirling Single tender engine.
Bio
coming soon
Persona
Emily acts as a sisterly figure to the others. Emily is kind and friendly and always sensitive to the other engines' feelings. If she wrongs someone, knowingly or not, she is quick to apologise.
Basis
Emily is based on a GNR G3 Stirling Single. The only surviving member of her class (No. 1) is on display at the National Railway Museum.
Livery
Emily is painted emerald green with gold and yellow lining. She has chocolate running-boards and her buffers were originally bronze but are now silver. For The Great Race, gold trim and flowers were added to her coat for her participation in the Best Decorated Engine Parade.
Appearances
Season 1 - Geoffrey's Real, Tankers of Doom, Henry the Warrior, The Great Western Way, Skarloey Comes Home (cameo), Salty's Secret Story, and Gordon, Spencer and the Flying Scotsman (cameo)
Season 2 - The New Controller, Trouble with Brake Vans, Jealous James, Duncan's Discovery (cameo), The "Ghost" Warrior (cameo), and Back to Misty Island (cameo)
Specials:
Trivia
Although the second female steam engine to ever appear in the television series (the first being Lady), Emily is the first canon female steam engine in the series as well as the first female steam engine to appear and remain on a regular basis.
Emily is the first character besides Thomas himself to say his infamous phrase, "Cinders and Ashes", which was done in Tickled Pink.
Emily is the only member of the Steam Team not created by Wilbert Awdry.
According to Robert Gauld-Galliers's concept art, Emily was originally going to have handrails on top of her smokebox, three front coupling chains and a gold symbol on her wheel arch.