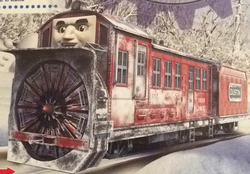 Dustin
First Appearance: Trapped in Tidmouth
Enemies: Unknown
Number: 1869
Class: Rotary Snowplough
Designer: J.W. Elliot
Builder: Cooke Locomotive and Machine Works
Built: Between 1883 and 1884
Configuration: Bo-Bo
Dustin is an American self-propelled snowplough locomotive.
Bio
When a large blizzard hits the Island of Sodor, The Fat Controller calls in Dustin to deal with the snow. He also helped clean up after a big storm hits Sodor and won the charity races. He later helped to build a weather station with Belle and Flynn.
Persona
Dustin is a strong, but slow snow-removal steam engine. He enjoys clearing snow and being a Really Useful Engine no matter the weather. He is always eager and determined to help out in any way he can.
Livery
Dustin is painted burgundy and black. He has his number, "1869" and the initials "J.W.E." painted on his sides in white and his name is painted in white lettering on black nameplates mounted on his tender.
Appearances
Trivia
Dustin's number, 1869 and the J.W.E. initials painted on his sides are a historical reference. The first concept of a machine railroad snowplough was conceived by J.W. Elliot, a Toronto dentist, in the year 1869.