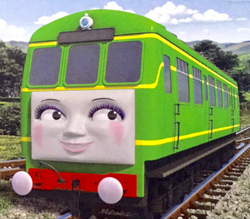 Daisy
Number: D1
Friends: Thomas, Percy, Toby, Duck, Oliver, Harvey, Rosie, Diesel, Mavis, Den, Dart, The Fat Controller, Ryan, Skiff, Judy and Jerome
Enemies: James, Donald and Douglas, Diesel, George, Annie and Clarabel, Henrietta, Flora (one-sided), Whiff
Class: BR Class 101
Designer: Metro-Cammell
Builder: Metro-Cammell
Built: 1960
Configuration: Bo-Bo
Arrived on Sodor: 1960
Top Speed: 75 mph
Daisy is a diesel railcar who works on the Harwick Branch Line with Ryan. She formerly worked on Thomas' Branch Line.
Bio
coming soon
Persona
Daisy can be hard to please, most indignant, and highly opinionated. She is confident in herself and can sometimes boast of her abilities in particular situations, unconcerned, despite having never actually been in such a position before. She will sometimes presume she can show other engines a thing or two, despite knowing little on the matter, until she actually learns for herself. Daisy is good friends with the other engines on Thomas' branch line, tries to work much harder to be a useful engine, and is better capable of handling things alone.
Basis
Daisy is based on the BR/Metro-Cammell Class 101/102 DMU.
Livery
Daisy is painted light green. She wears makeup, including eyelashes, red lipstick, blush, and blue eyeshadow.
Appearances
Specials:
Trivia
Daisy was the first female engine introduced in the series.
Some of the stories involving Daisy reflect events in real life that were faced by railway staff when it came to dealing with "highly sprung" diesel engines in the earlier phases of dieselisation.
Daisy's second season horn sound is Diesel's in a whole step higher in pitch.