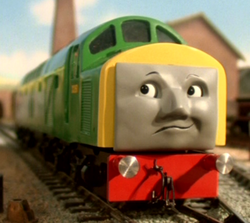 D261, "The Diesel"
Number: D261
First Appearance: The Great Journey of Sodor
Friends: D199, D40125, The Mainland Diesels
Enemies: Everyone (except D199, D40125 and the Mainland Diesels)
Class: BR Class 40
Designer: British Railways
Builder: Vulcan Foundry or Robert Stephenson and Hawthorns
Built: Between 1958 and 1962
Configuration: 1Co-Co1
D261 (nicknamed Bowler, Class 40, or The Diesel) is a snobbish green diesel from the Other Railway.
Bio
D261 first came to the island as a visitor, overlapping with the final days of Stepney's first visit to Sodor. He was very derogative towards the engines, with his best comment being "I've seen worse." He became very unpopular on the island, and whilst preparing to pull the Express, he sucked an inspector's hat into his air intake and had to be shunted into the shed. He soon left thereafter, leaving a rather nasty smell of fuel and a battered bowler hat!
Persona
D261 is snobbish and rude, believing that diesel engines should take over from steam engines.
Livery
D261 is painted in British Railway's two-tone green livery with a black roof and yellow warning panels.
Appearances
He will appear in the third season.
Specials:
Trivia
D261's number belonged to a real Class 40. The real D261 entered service on the 26th of February, 1960 and withdrawn from service in 1983.