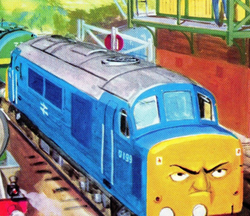 D199
Number: D199
First Appearance: Jealous James (not named)
Friends: D261, D40125, The Mainland Diesels
Enemies: Everyone (except friends)
Builder: Derby Works
Class: BR Class 46 "Peak"
Configuration: 1Co-Co1
Built: 1963
Arrived on Sodor: 1967
Diesel 199 (D199), nicknamed "Spamcan" and "Old Reliable", is a rude diesel engine from the Other Railway.
Bio
D199 arrived on Sodor with D7101, later known as Bear, during the time when the Flying Scotsman was also visiting. D199 was intent on abolishing steam-kind, beginning with the Main Line Engines, and made rude remarks about them before being shut up by 7101. However, he wound up getting a taste of his own fuel when he broke down while hauling a train of tankers and Henry had to take him away, but not before he was given the nickname "Spamcan" by the engines! He was returned to the Other Railway, while Bear was allowed to stay on Sodor.
Persona
D199 was pompous and rude, and sided with the general belief amongst diesels that steam engines are inferior to diesel power. He is blatantly arrogant, and enjoys bad-mouthing the steam engines. However, he earned the nickname "Spamcan" by a signalman after he failed pulling a train of oil-tankers, and he subsidised when the signalman jokingly threatened to cut him up with a tin opener.
D199 thought he was more reliable than the steam engines. However, one day he broke down and quickly lost his nickname "Old Reliable". In fact, everyone was rather pleased when he was sent away from Sodor back to the Other Railway.
Livery
D199 is painted in the British Railway's "Rail Blue" livery with yellow warning panels.
Appearances
Specials: