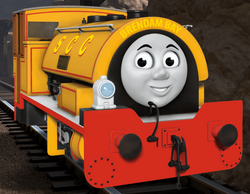 Bill and Ben
Numbers: SCC 1 and SCC 2 respectively
Class: Bagnall 0-4-0STs
Designer: W.F. Bagnall
Builder: W.F. Bagnall
Configuration: 0-4-0ST
Built: 1948
Arrived on Sodor: Sometime between 1949-1964
Bill and Ben are tank engine twins who work for the Sodor China Clay Company.
Bio
coming soon
Persona
Bill and Ben are Sodor's mischievous saddle tank engine twins, who have great fun in teasing the other engines of the railway. Each has four wheels, a tiny chimney and dome, and a small squat cab. They often work in the China Clay pits and quarries. Their loads of clay can be used for many things such as paper, paint, and pottery. They take trucks for engines on the main line and ships in the harbour and are regularly seen around Brendam Docks. They enjoy attention and love taking visitors and being photographed. They tend to work together, like most twins, but even this youthful pair can have their arguments among themselves and can squabble with one another. They are highly prone to playing tricks and being cheeky. They have even teased Gordon on more than one occasion. Duck has called them "the bees" before, for being terrors when they start buzzing around. Edward and BoCo are the only engines who can really keep them in order enough to put a stop to their games and make them scamper along and behave. There is no real harm to them, but even Edward admits that they are maddening at times.
Basis
Bill and Ben are based on the Bagnall 0-4-0STs "Alfred" and "Judy" of Par, Cornwall, who are both preserved and in working order at the Bodmin and Wenford Railway.
According to the foreword of Thomas and the Twins, Alfred and Judy are both Bill and Ben's twins.
Livery
Bill and Ben are painted dark yellow with red lining. They both have brown nameplates with yellow writing, "SCC" written on both sides in yellow and "Brendam Bay" on the front of their saddle tanks.
From the seventeenth season onwards and in The Adventures on Sodor, the twins have had red wheels instead of black ones. In the episode from the same season, Bill or Ben?, the twins were painted dark blue with blue wheels, yellow lining and yellow lettering, but they returned to their normal livery soon afterwards.
Appearances
Specials:
Trivia
A behind the scenes picture of Bill's model reveals that he and Ben were to have numbers on their smokeboxes above their faces, as they did in the Railway Series.
Ben's whistle sound is Thomas' in a higher pitch, and Bill's is the same in an even higher pitch. But often, throughout the CGI Series, they swap whistle sounds.
In an interview with SiF , Andrew Brenner stated that Bill and Ben were two of his favourite characters, along with James and Toby.
Ad blocker interference detected!
Wikia is a free-to-use site that makes money from advertising. We have a modified experience for viewers using ad blockers

Wikia is not accessible if you've made further modifications. Remove the custom ad blocker rule(s) and the page will load as expected.